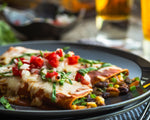 Ingredients:

For The Sauce:
2 packets - Tomato Purée
2 tsp - Olive Oil
1 - Garlic Clove (minced)
2 tsp - Chili Powder
2 tsp - Cumin
Salt to taste

For The Enchiladas:
6 pcs - Cornitos Tortilla Wrap (can be replaced with a Roti)
100 gm - Black Beans (boiled & drained) 
50 gm - Sweet corn
2-3 - Cilantro Spring (chopped) 
2 - Garlic Cloves (minced)
2 tsp - Cumin
3 cup - Shredded Cheese Blend (Monterrey jack, etc.)


Method:
Preheat the oven to 350 and grease a large baking dish
To Make The Sauce: In a medium bowl, mix together the tomato sauce, olive oil, garlic, chili powder, cumin, and salt. Set aside.
To Make the Enchilada Filling: Place a medium skillet over medium heat with a drizzle of oil. When the oil is hot, add the spinach and cook, stirring occasionally, until wilted. In a large bowl, combine the black beans, corn, spinach, green onions, cilantro, garlic, cumin, and 2 cups of shredded cheese.
To Assemble The Enchiladas: Pour half of the enchilada sauce in the base of the baking dish, for each enchilada, place the enchilada filling in the center of each the center of each tortilla, roll the tortilla up, and place it in the baking dish.
Once the enchiladas are all lined up in the baking dish, pour the rest of the sauce over the enchiladas. Sprinkle with the remaining cup of shredded cheese. Place in the oven and bake for 20 minutes.