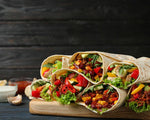 Ingredients: 
6 pcs - Cornitos Tortilla Wrap
100 gm - Kidney Beans (soaked overnight)
1 - Onion (finely chopped)
1 - Tomato (finely chopped)
2-3 - Green Chili (finely chopped)
30 gm - Sweet Corn
6 tbsp - Coriander Powder
6 tbsp - Garam Masala Powder
3 tsp - Lemon Juice
Salt & pepper as per taste
Method:
Wash and soak the red kidney beans or rajma overnight. In the morning give it a good rinse and pressure cook it for 3 whistles and keep aside.
Get prepped with all the ingredients and heat oil in a Shallow frying pan on a medium heat, add the cumin seeds, and let it splutter.
Add the finely chopped onions and sauté until onions turn translucent.
Now, add the tomato and green chili, and sauté till the tomatoes are cooked.
Add the coriander powder, garam masala powder and mix well.
Once the spice mix is cooked well, add the boiled red kidney beans and give it a good stir.
Let it cook for 2-3 minutes till the spices incorporate well with the red kidney beans.
Season with salt, add the lemon juice, mix, and switch off the flame.
Now, heat a Tawa on medium heat and cook the tortilla wraps on both the sides. Brush it with a little oil if you like and keep aside.
To arrange the wraps, take a Cornitos Tortilla Wrap, place 2-3 tablespoons full of the red kidney beans mix in the middle, top it with the onion salad and wrap the Cornitos tortilla.
To seal the sides of the Cornitos tortilla wraps you can even pan fry it on either side if you wish.
Serve the Red Kidney Beans Tortilla Wraps.